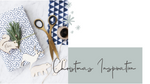 Depending on how much of a Christmas fanatic you are, it might still seem a little early to be chatting all things festive. But if you work in retail, have excitable kids or spend a lot of time shopping on the high street, you may have noticed that a lot of lovely festive goodness has already started popping up left, right and centre. It's a brilliant time to look ahead and get organised - and we've got lots of bespoke decorations to help you make your home feel like a Christmas haven come December.
Each home has a personal style when it comes to decorating - you might opt for traditional embellishments and homemade decorations, or instead choose a modern minimalist approach. No matter which style you prefer, our decorations are a wonderful finishing touch. 
Trimmings for your tree
A beautifully decorated Christmas tree takes the limelight every year. Our wooden hand-engraved baubles are bespoke and personalised, ideal for adding some rustic homely magic to your tree. 
Our baubles come in many different forms - from engraved pet names, travel destinations and baby's first Christmas, to different shapes like trees and snow globes. The bespoke wooden keepsakes are more than just plastic baubles you leave gathering dust in a cupboard all year - they're lifelong gifts.
Step up your card game
One of the most thoughtful gifts every year is a genuinely heartfelt handwritten message. Our illustrated cards are created with that in mind, giving you the opportunity to personalise your cards even further. 
Our designs include a penguin first Christmas card, wooden new home card, and baubles card personalised with family initials. Each card can be personalised on both the front design and internal message - and their unique design means they'll always stand out on every windowsill and mantlepiece.
That's a wrap
Using excessive plastic gift tags and ribbon over wrapping paper can often contribute to throwaway culture over the Christmas period - so choose mindful wrapping decorations that are a gift in themselves.
Our woodland creature gift tags and twine can be used to embellish your gifts in an authentic, rustic way. They can then be repurposed as table decorations or hangings all year round.
Build up the anticipation
Christmas Eve gifts - like pyjamas, socks, hot chocolate and treats - are often given to kids in stockings or boxes the night before Christmas. We've come up with an alternative - fine cotton drawstring bags, pressed by hand and made to order. Our bags are decorated with a personalised Christmas message in either black or gold, helping to build up the excitement in the countdown to the big day.