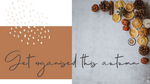 When the temperatures begin cooling and the leaves start turning crisp shades of red, many people breathe a sigh of relief. After summer, autumn naturally feels like a time to reset, get sorted and tidy your space - both mentally and physically. Cosy knitwear is pulled out from the back of the cupboard, and comfort food like slow-cooked stews and soups are always on the menu. 
With the transition between seasons comes a change in mindset. Summer is often filled with holidays, BBQs, sporting events and more, and can feel overwhelmingly busy rather than relaxing and tranquil. When autumn swings around in the natural world, animals are preparing for hibernation, gathering and sorting before they rest over winter. Similarly for humans, the beginning of the new school year in September provides the perfect opportunity to get everything in order. Organise, sort and refresh your home to prepare for spending more time relaxing in it over the winter months. 
Unless you're naturally organised or a huge Marie Kondo fan, it can be tricky to motivate yourself to tackle a big clear-out or tidying project. Here are some of our favourite ways to inject some order to a chaotic space. 
The kitchen
Autumn and winter can be fun times to play around in the kitchen. When the weather outside is frosty, what's better than baking cakes, throwing root veg into a stew or brewing up some hot chocolates? However, if your kitchen is a bit of a mess, you might not feel like pulling out lots of bowls, chopping boards and baking trays to add to the chaos. 
A handy recipe box is a simple and effective way to organise your kitchen space. If you find yourself sifting through scraps of cookery magazines, scrawled notes on the back of receipts or faded copies of secret family recipes when you need food inspiration, collate all your favourites in one place. Having a neat, compact box to look through reduces time and frustration at mealtimes, and doubles up as a fun way to involve the whole family in tricky dinner decisions.
The boxes come with five handy dividers - Starters, Mains, Desserts, Baking and Other - but feel free to play around and personalise them further with some post-it notes and pens. Try sorting your recipes by international cuisines (eg, Moroccan, Chinese, Italian, Mexican and Greek) or dietary requirements (eg, veggie dishes, gluten-free options, dairy-free baking).

Once you've got your kitchen space organised, keep it sparkling clean. Wearing personalised aprons while you cook helps get you in the right mindset and reduces the cleaning afterwards. Also, using coasters under drinks may sound obvious, but this simple tip helps keep annoying spills, stains and rings from glasses to a minimum - while adding a rustic wooden feel to your surfaces.
 The garden
For experienced green fingers or budding gardeners, autumn is the perfect time to grow lots of lovely fresh veg for your winter soups (and Christmas dinner). Getting out into the crisp air to tend to your crops is a wonderful activity for all the family - and eating your homegrown produce is a unique and rewarding experience. September is the perfect time to grow spinach, garlic, onions, carrots, beetroot, cauliflower, broccoli, and more.
To stay encouraged and motivated, it's important to keep your garden space and shed nice and tidy. A seed box is one of the best ways to pop all your vegetables, herbs and flower seeds in one place, ready for the season when they need to be planted. 
The office
When it comes to getting in the right headspace for work, having a decluttered office space is crucial. Drawers overflowing with crumpled photos, notes and other bits and bobs can be extremely distracting - and can often lead you to pull out the rubbish bags and clear everything into the dustbin.
Don't lose special mementos out of pure frustration at the mess. In a world of social media and online content, taking physical photographs and collecting tactile mementos is precious. Spending an afternoon sifting through memories of your relationship, your children's growth and your family journey is invaluable. 
Take some time out to collect your treasured photos and keepsakes in a nifty and beautifully personalised box or photo album. As well as helping clear out desk and drawer space, the process itself encourages you to spend time reminiscing and reflecting.
Have our products helped inject some organisation into your space? We'd love to see how you style them in your home - tag us in all your lovely snaps on Insta @cloudsandcurrents.