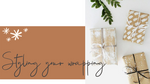 Wrapping paper comes in many wonderful patterns, prints and colours - but when you're wrapping up Christmas presents for the whole family, it can become pretty expensive, wasteful and damaging to the environment. Opting for natural recyclable brown paper to wrap your prezzies can be a brilliant alternative - and it's so easy to make your wrapping look beautiful, professional and high quality. Here are our favourite ways to style your wrapping this year.
Add some foliage
Get your hands dirty by trimming some beautiful greenery to adorn your wrapping. Evergreen trees and shrubs make the perfect embellishment - cut some leaves from cedar, pine, lavender, eucalyptus, holly or whatever's flourishing in your garden. 
Glue, tape or tie your greenery to your wrapping with twine of your choice - you can even add some holly berries to enhance the festive effect.
Tie it all up with a gorgeous garland
Sometimes, less is more. If you want to go for a more minimalist look this Christmas, wrap your gifts in plain brown, white or black paper, and choose a statement garland to tie them up. 
There are plenty of inventive options when it comes to ties - from beads and ribbons to coloured striped twine and mini bunting. Mix it up and try different styles depending on who each present is for - pick a garland that reflects their personality or gift theme.
Get messy
If you want to spend an afternoon decorating your wrapping paper with the kids, using paint and stamps can be a fun way to create some truly show-stopping designs.
Make your own DIY stamps using raw potatoes sliced in half. Simply cut out a simple shape of your choice (a star or tree are both great options), then dip your potato stamp into paint and create a unique pattern on your paper. This is a lovely way to make handmade Christmas cards, too!
Enhance the natural feel of earthy brown paper with some rustic woodland embellishments. Create miniature wooden trees out of twigs, or attach cinnamon sticks and pinecones to your wrapping with twine.
Our set of
woodland gift tags
are perfect for adding a natural feel - each set consists of a stag, squirrel, bear and bird made from solid birch plywood, and left blank so you can add your own personalised Christmas message.
We hope our handy festive tips and tricks are useful this season - for more inspiration, head over to our
Pinterest
and browse our curated boards.